Skitown Breakdown
Event Navigation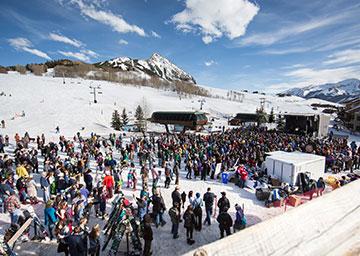 April 6th -April 8th 2018 
We are excited for our spring music festival, SkiTown Breakdown, sponsored by the Town of Mount Crested Butte!
This year we are stoked to announce our amazing line-up and schedule of events!
Saturday, April 6
Trout Steak Revival at Crested Butte Center for the Arts at 8 pm.
Saturday, April 7 
Drew Emmitt Band will be rocking at the Ice Bar at Uley's Cabin from 12 – 2 PM. This show is FREE!
Dont miss the awesome Pond Skim in the Base area at 3 PM
Wrap up this awesome Saturday with the New Orleans Suspects at Butte 66 form 4 – 6 PM. This show is also FREE!
Sunday, April 8
Closing day at Crested Butte Mountain Resort is always memorable. Don your best costume and hit the slopes!
Make sure to check out Coral Creek at the Umbrella Bar from 12 – 2 PM.
Don't miss Cre​sted Butte this spring!
In order to streamline our calendar we've moved guided mountain bike trips to a separate page on our sister site MTBHome.com. You can view those trips by guide service here.