Shop the Shop: Meet the Artist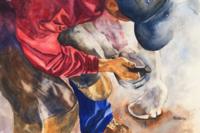 Shop the Shop: Meet the Artist – Cheri Isgreen Saturday, June 20th @ 10:00 am MT on www.facebook.com/TheShopAtTheGac/live Meet the extraordinarily talented, Montrose based artist, Cheri Isgreen. Master of many mediums, get to know her work and learn more about her as an artist! Follow our Facebook Page, @TheShopAtTheGac to see our weekly "Shop the Shop' specials, including 'Mugshot Monday", "$20 Tuesday", "Photography Friday"… you get the idea! You can join the live event, comment "sold" on the piece you would like, and a GAC staff employee will reach out to complete the sale. Each third Saturday of the month, at 10:00 am, join us for a special "Shop the Shop: Meet the Artist".
In order to streamline our calendar we've moved guided mountain bike trips to a separate page on our sister site MTBHome.com. You can view those trips by guide service here.