Santa Ski & Crawl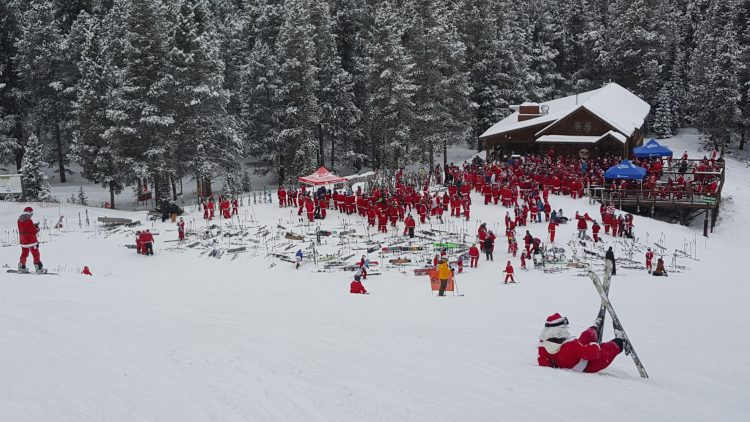 Crested Butte Mountain Resort is sponsoring the "Santa Ski and Crawl" in hopes of breaking the World Record for the most number of skiers in full Santa costumes. Participants need to be decked out in a full Santa suit in order to participate. Plus CBMR will be offering amazing discounts on lift tickets and lodging for participants!
BE A PART OF HISTORY
Help set a World Record and have an unforgettable experience at the same time! Ski Mt. Crested Butte at a discounted rate if you're dressed up as Santa! You can purchase one of ours or make your own. Check out our FAQ page to see what your suit needs in order to qualify for the discount.
HAVE FUN ON THE SLOPES
Ski all day and then join all the other Santas for a group ski at the Ice Bar.
CONTINUE THE FUN AT THE PUB CRAWL
Drinks start after the group photo at the Butte 66, then buses will transport you for more at Secret Stash, Talk of the Town and Kochevars.
SCHEDULE
8:00 AM – Registration opens for ski ticket purchase and/or suit pick-up – Base Area, Ski resort
9:00 AM – Lifts Start!
2:30 PM – Santas Gather at the Ice Bar (mid-mountain)
3:30 PM – Group Santa Ski Starts
3:45 PM – Drinks Start at Butte 66
4:00 PM – Busses to downtown begin
4:20 PM – Drinks Start at The Secret Stash
5:00 PM – Drinks Start at The Talk of The Town
5:45 PM – Drinks Start at Kochevars
6:30 PM – Event officially ends, but keep on caroling!
Help set the World Record for the most skiing Santas. It doesn't matter if you ski, snowboard or snowblade, all Santas are welcome! The Santa Ski is open to all ages and is free to participate. All you need is a Santa suit and either a season pass or a day pass to the ski mountain. Discounted Santa lift tickets are available at Santa Headquarters in the middle level of the Treasury Center on Saturday from 8 am to 3:30 pm.
Don't have a Season Pass? – Ski for only $23 if you're in a full Santa Suit! That is over $80 off a regular priced ticket! Santa suits must have a top, bottom, hat and beard in order to qualify. You can make your own suit, use an old one or purchase one in advance from www.cbsantacrawl.com.
Check out www.cbsantacrawl.com for details!
In order to streamline our calendar we've moved guided mountain bike trips to a separate page on our sister site MTBHome.com. You can view those trips by guide service here.