Rolling Spokes – A Bike Powered Scavenger Hunt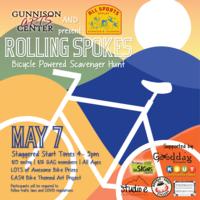 Rolling Spokes – A Bike Powered Scavenger Hunt Friday, May 7th. Staggered start times between 4 and 5 pm Dust the rust off that bike poking out of the snow, gather a few friends, throw on some fun costumes, and come out to decipher the scavenger hunt clues! This FUN-draiser for the Gunnison Arts Center will take you around town on your bike following clues and hints to gather supplies for an easy bike-themed art project completed back at the GAC. Create your art to tunes spun by a KBUT DJ and adults enjoy our cash bar. Each person can take home their own artwork or complete the project with a team. All ages and abilities welcome and encouraged! $15 entry, $12 GAC members By registering for this event you are agreeing to follow all trafic laws and COVID regulations in Gunnison County.
In order to streamline our calendar we've moved guided mountain bike trips to a separate page on our sister site MTBHome.com. You can view those trips by guide service here.