Rise Above Covid:
November 11, 2020 @ 5:30 pm
$25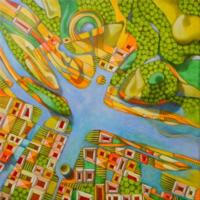 Rise Above Covid: An Acrylic Painting Workshop ~ (Ages 16+) A Healing Through the Arts Visual Arts Program Participants will explore the Gunnison Valley from above by painting a birds eye view of a local area that has brought them joy and escape during the Covid-19 pandemic. Maps of the valley will be provided to be able to trace the features of the landscape and then, using acrylic paints, participants will paint colors that represent the emotions they felt during the pandemic and/or the emotions they felt when spending time in their favorite location in our beautiful valley. Instructor: Deirdre Jones Wednesday, November 11. 5:30 – 8:00 pm. Category: Stress Relief Cost: $25 / $21.25 Members
In order to streamline our calendar we've moved guided mountain bike trips to a separate page on our sister site MTBHome.com. You can view those trips by guide service here.