Gunnison Valley Events Calendar
Did you know there are many events in Crested Butte and Gunnison? See live music, take an art class, volunteer, play trivia, watch (or participate in) a ski or bike race, and more! Check this calendar to see what's going on.

Pedal for Pink
August 15, 2022 @ 12:00 am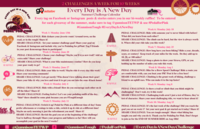 Pedal for Pink #PedalForPink #GunnisonTough #EveryDayIsANewDayChallenge YOU can Pedal for Pink this summer to bring awareness to cancer in our community! Our beautiful valley offers an inspiring and stoke-worthy season of biking across the mountain trails, in town, and everywhere in between! In 2021, 9-year-old Crested Butte local, Abby and her father, Kevin, tandem biked over 4,200 miles across the United States. Pedaling from the coast of WA to the coast of MA, they raised over $30,000 for Gunnison TETWP cancer initiatives in the valley to honor their mother/wife that was battling breast cancer. PEDAL CHALLENGE: It's the last week of the challenge! Did you reach the goal you set on week 1? Set your next goal & get started on it today! Share it! SHARE CHALLENGE: You are tough enough! Share what biking has taught you and why you do it. Thank you for Pedaling for Pink. Don't forget to join us for the END OF SUMMER RIDE on Aug 18th! Summer Challenge Pick up your Pink Bike accessory and Challenge Calendar at your local bike shop Complete the challenges each week and share your pedals on social media, make sure to tag @GunnisonTETWP and use the #GunnisonTough #EveryDayisANewDayChallenge We will feature your shared challenge updates and enter you to win SWAG, concert tickets, raffle prizes and more! After a summer of biking, don't miss out on the Pedal For Pink End of Summer Ride, from Shady Island River Park to the I-Bar and compete in the Bike Shop Wars and dance the night away with the gOinitiative and The Goonies during our annual Grits Guts & Gals Event!
Annual events in Crested Butte and Gunnison
Gunnison Valley is also host to several beloved annual events. A classic winter event is The Alley Loop, a Nordic ski race that doubles as a costume contest. In fall, Mt. Crested Butte hosts the famous Chili and Beer Festival. Every summer in Gunnison, a crowd gathers to watch America's fourth-oldest rodeo, Cattlemen's Days. There are also festivals in Crested Butte that celebrate local art, music, wildflowers, and more. Attending an annual event is a good way to connect with the culture of the Gunnison Valley. You might even create a new tradition for you and your family and friends!