Patricia Amlin "Octo Retrospective" art exhibit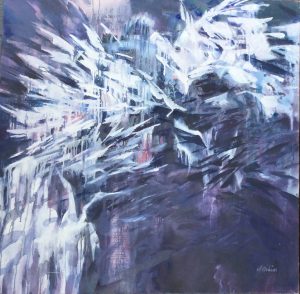 Patricia Amlin "Octo Retrospective" art exhibit at the Gunnison Arts Center
Patricia Amlin has had an amazing life abundant with travel, creating, teaching and mothering. This year, Patricia will be turning 80 and as a celebration, will be exhibiting a collection of oil paintings covering the course of her favorite creative years. Amlin's work is included in most major institutions in the United States, including the Smithsonian and was awarded a Fulbright scholarship to study at the Art Academy in Munich. From film to watercolor and theatre to oil paintings, Amlin's eclective use of mediums stretches the boundaries of art and activism. Rich with color and energy, Amlin's paintings reflect a sense of mystery and motion and will be on display in the Main Gallery through June 2017.
"My intention is to create work that will remain valid and be of use from generation to generation, work that teaches people about life's mysteries and dualities, work that helps people to survive by seeing the patterns that emerge from the mist following a horrific storm, work that nourishes the eye as well as the spirit, work that validates the culture, often oppressed and under-served, from which it emanates." ~ Patricia Amlin
In order to streamline our calendar we've moved guided mountain bike trips to a separate page on our sister site MTBHome.com. You can view those trips by guide service here.