Park to Peak to Pint
September 9, 2017
$45 – $55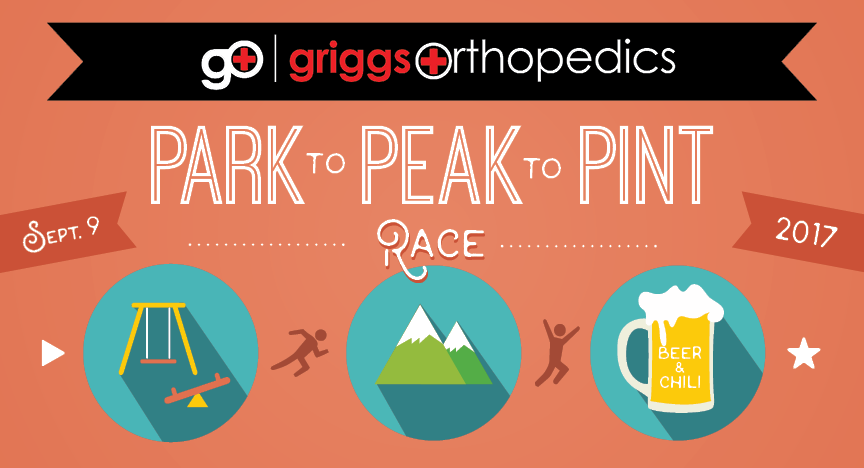 Griggs Orthopedics – gO is hosting our 2nd Annual PARK to PEAK to PINT Race on September 9, 2017.
We think that fall is the best time of year to run on the many, many trails in Crested Butte—cooler temperatures, spectacular views and leaves blanketing the trails.. truly amazing. And what better way to celebrate this awesome time of year than to host a trail run that starts in the town of Crested Butte (Rainbow Park), through the Upper Loop trail system, then on to the trails of Crested Butte Mountain Resort…ALL THE WAY TO THE PEAK!! From there racers will end at the Base Area to enjoy the infamous CB Chamber Chili and Beer Festival. OR we have an option to do a shorter course, which doesn't include the Peak (10 miles total). Regardless of what race you choose, it's sure to be a full day of FUN!
This race is open to all levels and all adventurers; however this is not a course to be taken lightly. We expect most runners to finish in the 2-4 hour mark, which is average. Please be sure you are well equipped, well-trained and very well prepared for all types of weather! We will have cutoffs at two different intersections, to ensure the safety of all participants and volunteers. Although we will have water stations at a couple different points, we highly recommend bringing your own hydration and food sources.
COST:
Long Course (includes Peak- Park to Pint): $55 
Short Course (excludes Peak-Park to Peak to Pint): $45
REGISTRATION HERE!!
THE COURSE? SHE'S A DOOZY!
The official trails/course is mapped below, approximately 16 miles (Park to Peak to Pint).
RAINBOW PARK (Start!)
Across McCormick Ranch
Tony's Trail
Upper Loop
Happy Hour Trail
Lower Westside
Upper Westside
Road to top of Silver Queen
Peak Trail TO THE PEAK
Down Peak Trail
Down Silver Queen Road to Primer
Painter Boy
Columbine
Up Up and Away
BASE AREA (Finish)!
Peak Trail – PLEASE NOTE: The Peak Trail (top of Silver Queen to the peak of Mt. CB) is exposed and can be dangerous in some spots! You will be scrambling at times, with exposure on both sides. The route to the top is fairly evident, but please know that you will be hiking AT YOUR OWN RISK. We will have a course marshal along the way, along with a CBMR safety patroller to assist you in your decision-making along the way, but YOU WILL BE RESPONSIBLE FOR YOUR OWN SAFETY. At the top (12,162 feet) you will be greeted with a 360-degree view of the Gunnison valley which will not disappoint!! We promise it will be well worth the hike!
Course Markings – Course will be marked with green flagging. Please note the road on the Mountain which will have two-way traffic. Please remain to right side both up and down on this part of the course!
CATEGORIES
MALE/FEMALE Park to Peak to Pint (RACE Category) – Entire course, ~16 MILES
MALE/FEMALE Park to Pint (REC Category)- Short course without Peak, -10 MILES
SCHEDULE (TENTATIVE, SUBJECT TO CHANGE)
Thursday – September 7- Online registration closes!
Friday-September 8- 4:00-6:00 pm: Late Registration, Griggs Orthopedics Crested Butte Location (433 Sixth St) 
Packet and Bib pickup
There is NO RACE DAY REGISTRATION!! 
Saturday – September 9
6:30-7:30 am: Last minute packet and bib pick up
7:50 am: Racer Meeting, Rainbow Park (222 Eighth Street, Crested Butte)
Review of the course and schedule for the day + safety talk while running/on the Peak of Mt. Crested Butte
8:00 am: Race START!
Cut Off Times: 10:30 am-Silver Queen Road that takes you to the peak going up
1:00 pm- Silver Queen Road coming down from Peak 
1:00 pm: Awards then Chili and Beer Festival!!
WATER STATIONS
*Please come prepared with your own hydration! We will have water stations/CLIF Products at the approximate locations:
Mile 3-water only
Mile 6/11
Mile 14
LODGING DISCOUNTS
**Save 25% on Lodging and receive a free scenic lift ticket for each person on the reservation.
Call Crested Butte Vacations at (844) 640-7744 or book online:
The Grand Lodge
Every room is surprisingly large and includes comforts and conveniences to make your stay ideal, any time of the year.  The Grand Lodge welcomes well-behaved dogs of all shapes and sizes. Pet friendly rooms are limited, so please reserve in advance. A nightly $30 fee for each pet will be charged to your room, and a portion of this fee will be donated to P.A.W.S., a local animal rescue service.
The Lodge at Mountaineer Square
Crested Butte's Signature Mountain Lodge Property. Located in the heart of the Crested Butte Mountain Resort base area – just steps from the ski lifts, hiking and biking as well as shopping, ski area services and restaurants – Mountaineer Square is an excellent "base camp" for your winter ski vacation or summer mountain getaway. The Lodge at Mountaineer square features luxurious accommodations and impeccable guest service, and the Mountaineer Conference Center is suitable for events for up to 500 guests.Enjoy on-site shopping, dining and entertainment year-round. The Lodge at Mountaineer Square offers specials and packages that make your Crested Butte experience even more memorable.
The Plaza
Groups and families love the Plaza for its convenient location just 100 yards from the ski area's main lift, the Silver Queen. In one short walk, guests can hit the slope or take in the action at the base area of Crested Butte Mountain Resort. Kids love the Adventure Center (mini-golf or rock climbing, anyone?), and parents love the shops and base area restaurants (hello, happy hour!). The Plaza is also unique for its condominium setting with hotel style services. Spacious two- and three- bedroom suites include everything you need to be independent, while on-site check-in, a restaurant and bar, daily housekeeping services, covered parking and two hot tubs provide all the benefits of a hotel!
ETC…
Cancellation Policy – In the case of rain, hail, sleet, snow.. race may be cancelled for the safety of all involved. Everyone gets a refund!!
If you need to cancel for any reason, we will reimburse you 50% of your race entry by August 3oth, after no race entry fees can be reimbursed. We apologize for any inconveniences.
CutOff Times – We will adhere to ALL cutoff times; if you do not make the cutoff at any given point, you will be considered a DNF and are then on your own to return safely to your car/house/the Party!
I can't finish! – At any point, if you decide to withdraw from the race, YOU WILL BE RESPONSIBLE to report this to a course marshall or last case scenario, Stevie Kremer at 203-644-2298. We don't want to have to call Search and Rescue and/or be looking for you for the entire evening (because then we will miss out on the Beer + Chili Festival!)
In order to streamline our calendar we've moved guided mountain bike trips to a separate page on our sister site MTBHome.com. You can view those trips by guide service here.