Paint Your Own Pottery Take Home Kits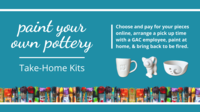 Paint Your Own Pottery Take-Home Kits! Place your order any day of the week online! Find inspiration during the isolation and create a special keepsake or gift from the comfort of your home with one of our Paint Your Own Pottery kits! Select a piece of pottery from our weekly theme. Once you place your order, the staff will get your kit ready to be picked up. A staff member will email you a list of colors to choose from, and direct you on how to pick-up. All supplies, tax, and kiln firing included in the price of the piece. Pick-up days: Wednesday, April 22nd, or Friday, April 24th. Pick-up time: After 1:00 pm. * All payments must be processed online prior to pick-up. Cash, check or credit card payments will NOT be accepted at time of pick-up. ** Automatic registration cancellation should payment not be received within 15 minutes. *** $5 surcharge for all supplies not returned. **** Tax included in price.
In order to streamline our calendar we've moved guided mountain bike trips to a separate page on our sister site MTBHome.com. You can view those trips by guide service here.