Off-Season Seminar Series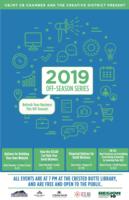 In partnership with the Crested Butte Creative District, the CB/Mt CB Chamber is pleased to present the 2019 spring off-season seminar series. Our fourth topic will be HR- everything from hiring and benefits to covering your a$$.
In order to streamline our calendar we've moved guided mountain bike trips to a separate page on our sister site MTBHome.com. You can view those trips by guide service here.