North Village Community Meeting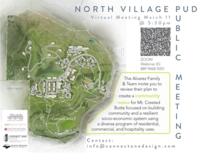 The Alvarez Family & Team Invite you to review their plan to create a nexus for Mount Crested Butte focused on building community and a resilient socio-economic system using a diverse program of residential, commercial, and hospitality uses. The plan incorporates feedback from previous outreach events. We will begin the evening with a brief presentation and then field questions and comments from attendees. Please join us and feel free to spread the word to your family and friends.
In order to streamline our calendar we've moved guided mountain bike trips to a separate page on our sister site MTBHome.com. You can view those trips by guide service here.