Mud Masters Clay Camp 3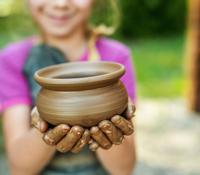 Mud Masters Clay Camps ~ (Ages 10 – 15) Tuesday – Friday, 3:30 – 6:30 pm. August 10 – 14. Students in this class will learn how to throw on the wheel. Techniques focusing on centering, throwing, trimming and glazing will be taught. Learn to throw bowls, mugs, plates, vessels and more! No experience necessary. All supplies included. Min. 4, Max 10 students. Instructor: Kit Wijkowski. $115/student, $97.75/members.
In order to streamline our calendar we've moved guided mountain bike trips to a separate page on our sister site MTBHome.com. You can view those trips by guide service here.