Mountain Roots Farm Dig-In Day!
May 25, 2019 @ 10:00 am
Free!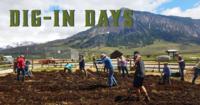 Mountain Roots invites people of all ages to join us in waking up our community farm out at Coldharbour. Bring your friends and family! It is a great excuse to get outside and enjoy this wonderful spring weather. Come enjoy some sunshine, smiles, plants and dirt! No experience required. We will teach you and then feed you some local BBQ for coming out to help! Contact Alex with any questions at [email protected]
In order to streamline our calendar we've moved guided mountain bike trips to a separate page on our sister site MTBHome.com. You can view those trips by guide service here.