Marc Berger in concert at Sundays @ 6
June 11, 2017 @ 6:00 pm

-

8:00 pm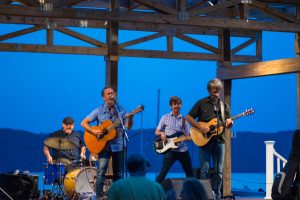 Marc Berger in concert at Sundays @ 6
Join us under the big trees of Legion Park on the corner of Tomichi Avenue and Teller Street every Sunday evening, June through August at 6 – 8 pm for free live music and community and family fun. This long-standing tradition has continued over the years, come rain or shine, featuring the music of local and regional bands. See you there!
Nationally touring, NY based songwriter, Marc Berger has performed at Austin's South X Southwest Music Festival and opened shows for Bob Dylan and other national acts. His current release, RIDE, is a collection of songs all having to do with the romance of the American West. His band is known for its dynamic, rootsy sound:
"A well choreographed mix of deep country folk songs with touches of bluegrass, roots, Americana, a little spicy cajun, and even a little indie with an effects laced lead acoustic guitar. It's near impossible to sit through a set without feeling a musical kinship to something in every song, even if it's just the basic joy of watching a well seasoned band rip through every song as if it was the final number of their farewell tour."
-The Living Room, NYC
In order to streamline our calendar we've moved guided mountain bike trips to a separate page on our sister site MTBHome.com. You can view those trips by guide service here.