Making Jewelry: Starting with the Basics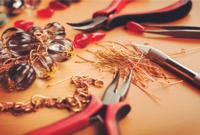 Making Jewelry: Starting with the Basics One 2.5 hours of demonstration and questions. Sunday, April 11. 9:30 am -12 pm. In this workshop we'll talk about getting yourself set up for the next two workshops. We'll do some basic exercises to get comfortable with our new tools. I'll go over techniques and language that will help you as we move forward together and as you begin to work in your own studio. I'll answer questions in regards to how things should be set up and provide a basic layout to help everyone begin setting up their own at home studio. I strongly suggest this workshop as an Introduction to the others if you have never had any jewelry making experience and are looking to give yourself a good foundation on how to handle tools and materials. Minimum 5 students to run. Instructor: Jennifer Wells. $85/student. In Partnership with the Vita Institute for the Arts.
In order to streamline our calendar we've moved guided mountain bike trips to a separate page on our sister site MTBHome.com. You can view those trips by guide service here.