Local Vocals Virtual Concert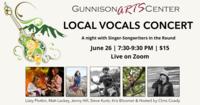 Local Vocals Concert – Live on Zoom Friday, June 26. 7:30 pm MT. This long standing summer tradition will continue virtually during a new age of social distancing, live on Zoom. Hosted by Gunnison local and singer-songwriter Chris Coady, this concert will provide a great platform for songwriters alike. Listen to the inspiration and stories behind these songs, and experience the talent and quality music our mountain valley hosts. Sit back in the comfort of your living rooms, kitchens or backyards and enjoy an exciting evening of diverse musical artistry. Ticket sales will be shared between musicians and the GAC. Songwriters: Chris Coady, Steve Kurtz, Jenny Hill, Kris Bloomer, Lizzy Plotkin & Matt Lackey. Zoom links will be emailed to all ticket holders prior to the concert. Virtual Tickets: $15.
In order to streamline our calendar we've moved guided mountain bike trips to a separate page on our sister site MTBHome.com. You can view those trips by guide service here.