Intro to Wheel Throwing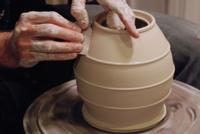 Intro to Wheel Throwing – Single Day Classes Fridays, 6:00 – 8:00 pm. January 11, February 8, March 8, April 12, & May 10. Always wanted to experience throwing on the wheel but did not know if you wanted to commit to a 6 week class? Then this class is for you! This class will give you the opportunity to spend time in our clay studio, become acquainted with our equipment and learn the basics of wheel throwing. Instructor: Abra Karbin. $60/session. $51/members all supplies included. Pre-registration required.
In order to streamline our calendar we've moved guided mountain bike trips to a separate page on our sister site MTBHome.com. You can view those trips by guide service here.