Happy Little Accidents – Bob Ross on the Courtyard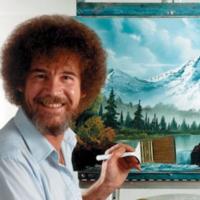 In-Person Event Tuesday, August 3rd. 6:00 – 9:00 pm Treat yourself to a night out and come paint along to an episode of "The Joy of Painting". This TV series introduced the world to Bob Ross, a soft-spoken artist with a nurturing disposition, who believed art was about more than skill but a means to finding mindfulness and a respect for nature. All levels welcome, "all you need is the desire to make beautiful things happen on canvas". ~ Bob Ross $40/person includes 2 drinks, supplies, and instruction. Pre-registration is required. Special! Sign up 4 people for the price of 3!
In order to streamline our calendar we've moved guided mountain bike trips to a separate page on our sister site MTBHome.com. You can view those trips by guide service here.