Fantastic Beasts & How to Draw Them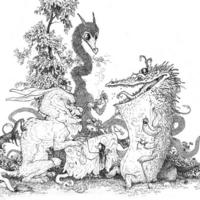 Fantastic Beasts & How to Draw Them: a sci-fi/fantasy workshop ~ (Ages 12 – 16) Monday – Friday, June 22 – 26. 3:30 – 5:30 pm. Using familiar animals as reference, students will learn how to combine biological features to make new fantastic creatures that will look like they came straight out of a movie or comic book. By incorporating storytelling elements and real-world biology, you can create something truly unique! Each student will receive a sketchbook and pens that will be theirs to keep after class. Min. 4 students, Max. 10 students. Pre-registration required. Instructor: Ellie Fortune. $90/camp, $76.50/members.
In order to streamline our calendar we've moved guided mountain bike trips to a separate page on our sister site MTBHome.com. You can view those trips by guide service here.