Emergency Preparedness & Response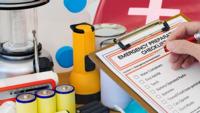 Learn from Erin Durant, Gunnison County Extension Agent, and Scott Morrill, Gunnison County Emergency Manager about the basics of emergency preparedness and response: -Putting together an emergency supplies kit -Protecting important documents and financial information -Creating communication, evacuation, and shelter-in-place plans -How to stay informed -How to begin recovering financially, physically, and emotionally This event is part of the Modern Homesteading Series, presented by the Gunnison Library on self-sufficiency topics taught by local experts for rural enthusiasts. It is free and open to all. Snacks are provided.
In order to streamline our calendar we've moved guided mountain bike trips to a separate page on our sister site MTBHome.com. You can view those trips by guide service here.