"Embodiment" by Paige Stewart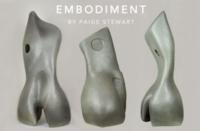 Opening Date: Friday, June 4, 5 – 8 pm. Show Dates: April 2 – 30 This series is about the process of becoming embodied and the struggle to do just that. Embodiment to me is the coming home of the self back into the body, allowing every emotion and experience full expression without judgment or condemnation. It asks for the self to stop numbing, avoiding, or projecting personal truths. It asks to regard the body as the home and source of spiritual insight, truth, and wisdom. This work is the return to ourselves, our bodies, our hearts, and our ability to listen to the stillness inside and to move out into the world from that place. Each sculpture is shaped entirely by intuition, following the internal stillness and seeing what unfolds from that space.
In order to streamline our calendar we've moved guided mountain bike trips to a separate page on our sister site MTBHome.com. You can view those trips by guide service here.