Design your Tote (Ages 13-16)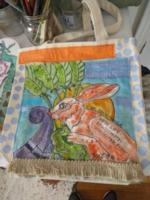 Tuesday & Thursday, June 8th & 10th. 3:00 – 5:00 pm. Design and paint a really cool summer bag. Learn the easy way to add color to fit your wardrobe. Work with stamping and stencils to add your unique fashion touch. Stand out from the crowd with your new creation. Each student will be supplied with a blank canvas bag and all the needed supplies. All levels welcome! Min. 4 students to run. Instructor: Kat Cunningham. $65/student, $55.25/members.
In order to streamline our calendar we've moved guided mountain bike trips to a separate page on our sister site MTBHome.com. You can view those trips by guide service here.