Dance Your Heart Out ~ (All Ages)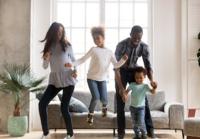 Dance Your Heart Out ~ (All Ages)A Healing Through the Arts Dance Program
In this class students will explore emotion through movement. Learn to express yourself and release your feelings in a nonjudgmental environment through a choreographed series of movements and fun activities. We'll explore different dance inspired exercises that help you become more in tune with your inner self. No dance experience required. This is a great class for all ages, parents and kids, partners, friends or to explore by yourself. Classes held safely in person in the GAC Dance Studio. Sign up for just one session or join us for all three!
Instructor: Alexandria Rodriguez
Dates/Times:
Tuesday, July 28. 6:00 – 7:00 pm.
Saturday, August 15. 10:30 – 11:30 am.
Wednesday, September 16. 2:00 – 3:00 pm.
Category: Exploring Your Emotions
Cost: $10 / $8.50 Members
All 3 sessions $30 / $25.50 Members
In order to streamline our calendar we've moved guided mountain bike trips to a separate page on our sister site MTBHome.com. You can view those trips by guide service here.