Dance AND Series: Latin Rhythms & Rum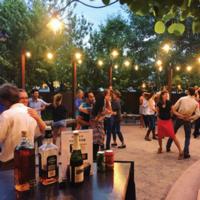 Dance AND Series: Latin Rhythms & Rum Saturday, November 7. 7:30 – 9:30 pm. Join us for a fun evening of live dance instruction paired with a cocktail kit in the comfort of your home, backyard, kitchen or porch. Frank and Fabrianna will lead us through the basics of Latin dance, live from the GAC dance studio. No dance experience is necessary. Upon registering, students will receive a Spotify music playlist to follow along to and a link to join the Zoom event. $35/household Zoom link, cocktail kits not included. Support your local business! Rum cocktail supplies for the event can be purchased at the Wet Grocer at a discounted price.
In order to streamline our calendar we've moved guided mountain bike trips to a separate page on our sister site MTBHome.com. You can view those trips by guide service here.