Crested Butte Nordic Thanksgiving Nordic Ski Camp
November 22, 2018

-

November 25, 2018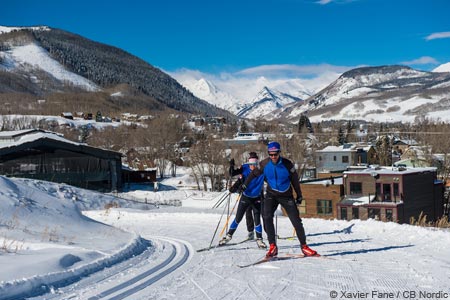 Thanksgiving Nordic Ski Camp
November 22nd – 25th, 2018

Clinics
All clinic costs include a complimentary CB Nordic trail pass.
Round Robin Refresher

Thursday, November 22nd,
9 a.m. to 11:30 a.m. 
The Round Robin Refresher is a fun way to get back onto skis and refresh your muscle memory.  Participants of all ability levels will practice skills and drills with a variety of instructors – "round robin style."
Introductory Technique Lessons
Friday & Saturday, November 23rd & 24th
12:30 p.m to 2:00 p.m. &  2:00 p.m to 3:30 p.m

We offer multiple 90 minute sessions for individuals curious about trying nordic disciplines for the first time.  These group lessons will be geared toward introducing "never-ever" participants to basic classic and skate ski techniques.
Full Day Clinics

Friday & Saturday, November 23rd & 24th
9 a.m. to 3:30 p.m.
We offer full day Skate & Classic clinics with professional instruction and video analysis for recreational through advanced ability levels.
Participants will be divided into groups based on ability at the outset of camp.  Groups will be comprised of no more than 8 students per instructor.  Less experienced skiers will get frequent breaks with refreshment in a heated enclosure.  Video analysis of your technique will be captured and reviewed on snow to maximize your learning experience.
Full day clinics on Friday and Saturday include a morning and afternoon session, separated by a  lunch break.  Sessions run approximately 2.5 hours long.
The Full Day Clinic fee includes complimentary hot soup lunch at the Nordic Center.
Kids Ski Camp – Full Day

Friday & Saturday, November 23rd & 24th
9 a.m. to 3:30 p.m.  
Our Kid's Camp provides kids, grades K – 6th, an opportunity to experience the "fun"damentals of nordic skiing with on-snow games, obstacle courses and winter adventuring!
Understanding that younger kids may not be inclined to spend a full day outside on snow, camper's will have the afternoon to free play at a local indoor gymnasium.  After being served soup lunch at the Nordic Center, kids will be chaperoned by camp instructors to the Jerry's Gym, located at the Town Hall in Crested Butte.

Kids Camp Registration includes: ski equipment, instruction, hot soup lunch and gymnasium admission.
U16 Junior Training Camp
Join us for 2 1/2 days of skills, drills, games and easy distance skiing on Crested Butte's awesome trail network. This camp is designed especially for young skiers who are not quite ready to join their teammates at the West Yellowstone Camp, but want to get a jump on their technique and fitness for the coming season.
Team Coaches:
We invite coaches to ski along with the kids, help coach and learn from our coaches.  No fees for coaches who bring 3 or more skiers.
U16 Junior Training Schedule:
FRIDAY – 11/23
9:00 a.m. – 11:00 a.m. Classic Technique – Opening games, skills, drills and easy technique skiing.
1 p.m. – 3:30 p.m. Skate Technique – Opening games and challenges, then easy skiing with kids of your same ability.
SATURDAY – 11/24
9:00 a.m. – 11:00 a.m. Classic Technique – skills, drills and easy technique skiing.
1:00 p.m. –  3:00 p.m. Skate Technique – easy skiing with technique tips, fun drills and sprints.
SUNDAY – 11/25
9:30 a.m. – Skate Race – 3km, low key fun race – just ski fast & have a blast!
Valuable points for having a successful camp …
You can identify different ability levels for different techniques – you may be an intermediate in Classic, but beginner in Skate.
You can change groups at any time – even in the middle of a clinic; our coaches will help you decide if a different group is best and assist you in sliding over to a better match for your ability and fitness.
You can change groups at lunch if you get too tired to keep up, or feel you need a different level.
When in doubt, choose an easier group – better to start in an easier group, get your skills mastered and move up, than to get discouraged skiing with stronger skiers.
We will have 2 coaches in groups with 8 or more – those groups will split again by ability 10-15 minutes into the clinic.
If after reading these descriptions you feel you want to change the group you registered for, email [email protected].  If you have questions, or need help deciding on which group best suits you, email: [email protected]
In order to streamline our calendar we've moved guided mountain bike trips to a separate page on our sister site MTBHome.com. You can view those trips by guide service here.