Crested Butte Community Iron Pour
October 5, 2017 @ 4:30 pm

-

7:00 pm
Come watch the sparks fly! An Iron Pour is the creation of sculpture through the pouring of molten
iron into molds. The Grand Finale on Pour Day on Thursday, October 5 beginning at 4:30 p.m. is a
chance to see your scratch block sculpture poured along with those of visiting and local artists all
complete with glowing molten iron, sparks and displays. This extremely visual and aesthetic event is for
the entire community and not to be missed!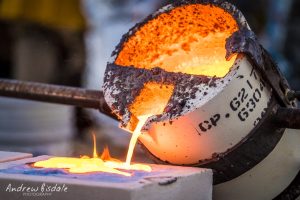 Pour Day Schedule of Events
SAND BLOCK CARVING EVENTS
| | | |
| --- | --- | --- |
| Sunday, September 17, 10 AM – 2 PM | | Crested Butte Farmer's Market |
| Sunday, September 24, 10 AM – 2 PM | | Crested Butte Farmer's Market |
| Wednesday, September 27, 5:30-7:30 PM | | Center for the Arts |
| Sunday, October 1, 10 AM – 2 PM | | Crested Butte Farmer's Market |
| Thursday, October 5, 4:30 PM – Pour Time | | Crested Butte Town Overlook |
4:30 p.m. Burn-in: The fires are started. The energy begins slowly, methodically to prepare for the
Pour. This is the careful, professional fire creation time; 5:30 p.m. Charging the Crucible: Watch artists
pour their work. AND, if you still want to carve a block for your own iron sculpture, you can carve until
dark!; 7:30 p.m. Iron Pour Performances Begin: It's dark, there's molten iron, and there will be sparks
and displays. Don't miss this portion! Dress warmly. A camp chair is a good idea too.
Iron Pour Sand Block Carving
Community members can make iron sculptures of their own – and it's easy to do! Carve your own
design into a pre-made sand block at the Iron Pour beginning at 4:30 p.m., then watch the Iron Pour
team heat iron to its liquid form and pour it into your mold. It is then cooled in a bath of water leaving
you with your own amazing iron sculpture. Small Block: $35; Medium Block: $50; Large Block: $75
How to Show Up to Pour Day
Wear sturdy, close-toe shoes; blanket to sit on; warm clothes, headlamp, money for food and drink
vendors; mug or cup for drinks; camera. Children and families welcome but please no dogs. Please park
in Crested Butte. There is no parking at the Iron Pour site itself. Walk up to the top of Elk and up the old
Kebler Road. The Iron Pour will be off the old Kebler Road north and next to Hippie Hill. There will be
signs to guide you on your way.
Please note times are approximate & flexible for Pour Day itself. For more information on the Iron
Pour and to pre-purchase your scratch block visit www.crestedbuttearts.org.
In order to streamline our calendar we've moved guided mountain bike trips to a separate page on our sister site MTBHome.com. You can view those trips by guide service here.