Crested Butte Art Walk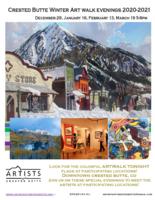 Winter 2020-2021 ArtWalks 5-8pm Join us in Downtown Crested Butte to experience beautiful art and meet the artists at all of our participating locations.
In order to streamline our calendar we've moved guided mountain bike trips to a separate page on our sister site MTBHome.com. You can view those trips by guide service here.