Crested Butte 4th of July Parade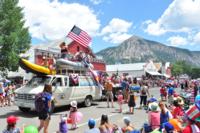 3rd and Elk Vendor Village Date: Sunday, July 4, 2021 Time: 10 am to 3 pm Details: Grab some light fare, get your face painted, and be sure to stop by our nonprofit booths to learn more about the amazing community of Crested Butte! Parade Date: Sunday, July 4,2021 Time: 11 am to 12 pm Details: Watch the country's biggest small town parade march down our main street! Be on the lookout for our Crested Butte Fire Department rearing up the end, and follow them down to our new route off of Belleview Ave for an epic family water fight!
In order to streamline our calendar we've moved guided mountain bike trips to a separate page on our sister site MTBHome.com. You can view those trips by guide service here.