Crackpots, Crack Shots & a Cannibal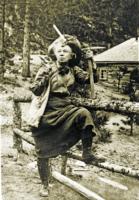 Crackpots, Crack Shots & A Cannibal April 25 – 27. Doors 7:00, Curtain 7:30 pm. The year is 1880 and four total strangers arrive in the Gunnison County during a mining boom that added a thousand a day of their kind to the population already here. Soon these four meet and become fast friends. What they did next changed the face of Colorado forever. From the word processor of playwright and director Mike Callihan comes this true – well, mostly true – story of "The Bloodhound of the Rockies", the pistol-packing "Mountain Queen", the "Man Who Stayed" and "Big Al" a snowshoeing, avalanche-chasing mail carrier. Toss in an encounter with, "the Colorado Cannibal" and you have an evening of theater unlike anything you've seen before. Told in a fast-paced readers theater style by the Up Valley, Down Valley Players, this play does have a few instances of old west language that a prudish few might find objectionable. So git yur tickets now! Tickets: $15/adults, $12/members, seniors (60+), students.
In order to streamline our calendar we've moved guided mountain bike trips to a separate page on our sister site MTBHome.com. You can view those trips by guide service here.