Cottage Food Safety Training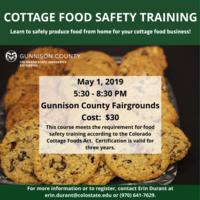 Food Safety Training for Colorado Cottage Food Producers Learn to safely produce food from home for your cottage food business! This course meets the requirement for food safety training according to the Colorado Cottage Foods Act and will provide valuable information on: – The Colorado Cottage Foods Act – Basic food safety, including proper hygiene; preventing cross contamination and cross contact of food allergens; temperature control for safe food preparation, storage, transportation, and sales – Ingredient labeling requirements – Special considerations for food preparation at altitude This food safety certification is valid for three years. Pre-registration is required and must be received no later than April 24. For more information or to register, contact Erin Durant at [email protected] or (970)641-7629.
In order to streamline our calendar we've moved guided mountain bike trips to a separate page on our sister site MTBHome.com. You can view those trips by guide service here.