"Conversion" by Paige Stewart, Brian Stewart & Ma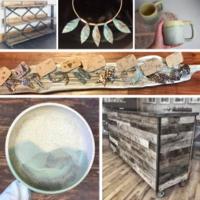 Upper Gallery: "Conversion" by Paige Stewart, Brain Stewart & Mark Lee This show highlights how people's negative impacts on nature can be turned into a positive creative process. Each artist is using discarded trash found in nature to make a unique and thought-provoking positive creation from a negative action. Mark Lee, artist and metal worker, is showcasing décor, jewelry, and sculptural work from discarded metal, Brian Stewart's handmade furniture and art are made from reclaimed wood and metal. Paige Stewart's pottery line, Soil + Toil, is using broken glass collected from Hartman's Rocks to melt into the bottom of bowls and cups. There are those who destroy and those who create; instead of complaining, we see it as an endless opportunity to transmute humanity's thoughtlessness. 10% of Proceeds go to support Gunnison Trails.
In order to streamline our calendar we've moved guided mountain bike trips to a separate page on our sister site MTBHome.com. You can view those trips by guide service here.