Colorados Young Voters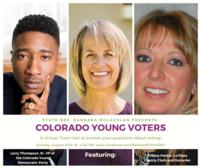 State Representative Barbara McLachlan is excited to discuss the specifics of how to vote in Colorado this year, what's going to be on the ballot, and how to get more involved with local politics! And there will be two incredible guest speakers joining to help answer your questions and concerns. Tune in through Facebook Live at? www.facebook.com/Barbaraforthe59th Larry Thompson, Sr. is currently the Vice President of Colorado Young Democratic Party, Chairman of the City of Littleton 2020 Advisory Board, member of the African American Initiative of Colorado Democratic Party, and a Former House District 38 candidate.? Tiffany Lee Parker has been La Plata County's Clerk and Recorder since 2009 but has been working in elections since 1996! She is currently the President of the Colorado County Clerks Association and recently received the annual Extraordinary Woman Award from the Women's Resource Center in Durango.
In order to streamline our calendar we've moved guided mountain bike trips to a separate page on our sister site MTBHome.com. You can view those trips by guide service here.