Chainless World Championships
June 24, 2016 @ 4:20 pm

-

6:00 pm

$25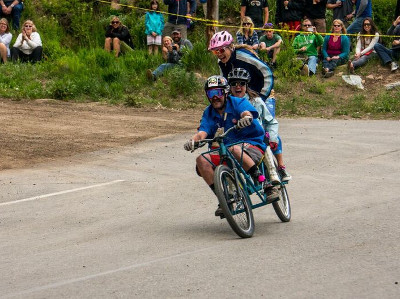 Friday, June 24, is all about the Chainless. Only in Crested Butte would we come up with a gravity-fed race like this. Bigger bikes. Bigger costumes. More ridiculous antics. Do whatever it takes to get you here in time for the Chainless. It's probably the best time you can have for $25.
What is the chainless? Racers weigh down their bikes, put on ridiculous costumes, and remove their chains (or just zip tie them). Bikes are loaded into trailers and delivered to the starting line. We take you to the top of Kebler Pass, 7 miles of dirt road from the finish line in downtown Crested Butte. At 4:20 PM sharp, racers sprint for their bikes and jump on to cruise down the road. The one who stays off their brakes the most wins. Well, actually, everybody wins. Even the spectators hanging out at the end of Elk to watch the carnage on the final corner.
In order to streamline our calendar we've moved guided mountain bike trips to a separate page on our sister site MTBHome.com. You can view those trips by guide service here.