CB South EV Station Ribbon Cutting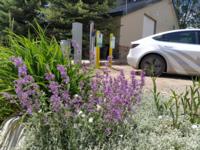 Gunnison County Electric Association is excited to reveal its 13th electric vehicle charging station in CB South. This event is scheduled just before the Farmer's Market in CB South, so stop by and check out the new station, take a ride in one of GCEA's electric vehicles, and grab a sweet treat from Third Bowl Ice Cream before checking out the market.
In order to streamline our calendar we've moved guided mountain bike trips to a separate page on our sister site MTBHome.com. You can view those trips by guide service here.