In order to streamline our calendar we've moved guided mountain bike trips to a separate page on our sister site MTBHome.com. You can view those trips by guide service here.

Cattlemen's Days in Gunnison
Event Navigation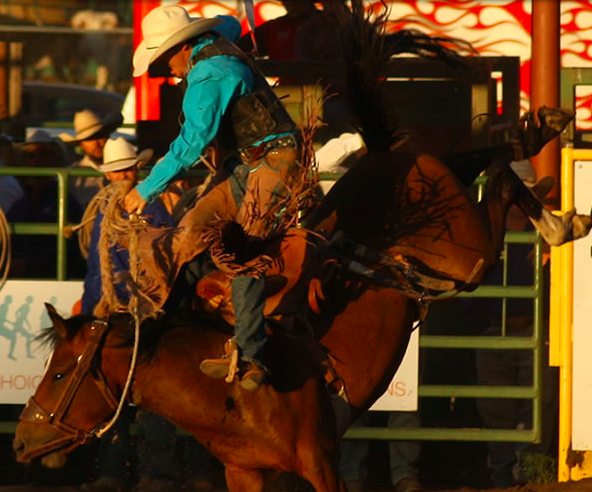 It's been 118 years since the Gunnison Valley started celebrating its western way of life. Each July, the ranching culture struts its stuff in the "Granddaddy of Colorado Rodeos," an event staged by the community for PRCA competitors and the people who love to watch them.
During the 2018 celebration, Cattlemen's Days promises the same kind of boot-stomping entertainment that Gunnison pioneers enjoyed – but on a grander scale. Bull riding, barrel racing and the best cowboys and cowgirls – hold onto your hat for the Valley's finest tradition! The dates for 2018 are scheduled for July 6th – 15th. Rodeos are the 12th, 13th, and 14th.  There is something for everyone at the 2018 Cattlemen's Days!
The Schedule of Events is TENTATIVE until late spring 2018.
All events are open to the public.

TICKETS
Rodeo Tickets go on sale at the booth at The Gunnison Bank on July 2nd.
The booth is open from 9-5.
Tickets may also be purchased at the main gate before each rodeo.
General Admission Tickets
Adults $20.00
Kids 12 and under $5 with paid general admission adult.
3 Day General Admission Tickets
Adults $40
Kids 12 and under $15 with paid general admission adult.
Reserved Grandstand Tickets
Adults $25.00
Kids 12 and under $5 with paid grandstand adult ticket.
Pre-sale Carnival Tickets
Available at the booth beginning July 2nd until sold out.
More Info: Contact Us
4-H activities and livestock exhibits: come on down and check it out! It is great entertainment for the whole family and supports our local kids.
Concessions for the rodeo and horse show are provided by the 4-H clubs and other vendors.
Grandstands are wheelchair accessible.
Exhibits and displays for viewing at The Rodeo Grounds including live ranch animals the kids love to see.
Facebook Page for the latest Cattlemen's Days Fun and Information.
Friday, July 6th

4-H Horse Show
Show in the morning, Speed Events to follow
8:00 AM

Saturday, July 7th

Ranch Rodeo
Team Auction Before Rodeo.  Free to the public.
Contact Gunnison Roping Club, 970-596-5329, watershedroping@live.com
2:30 PM

Sunday, July 8th

Open Horse Show Info and Entry Form
For more information contact Ivy McNulty, 970-275-0043
8:00 AM

Monday July 9th

4-H General Project Judging and Interviews
8:30 AM
4-H Dog Obedience Show
9:00 AM
4-H Cat Show
3:00 PM
Team Ranch Sorting
Team Auction Before Team Sorting. Free to the public.

Contact Gunnison Roping Club, 970-596-5329, watershedroping@live.com

5:30 PM
4-H Project Market Place, Revue, and Awards
7:00 PM
Cowboy Poetry @ The I Bar Ranch
7:00 PM

Tuesday, July 10th

4-H Fiber Goat Show
8:30 AM
The Famous Cattlemen's Days TETWP Concert and Auction
Mountaineer Square, Mt. Crested Butte.
Singer – Songwriters, Dean Dillon and Friends
General Admission Tickets, $100
VIP & Sponsor Tickets, please contact Heidi 970-209-6332 for more info.
4:30 PM – TETWP VIP Meet, Greet, & Dinner at the Mountaineer Square Ballroom, Mt. Crested Butte
6:00 PM – Doors open – General Admission
7:00 PM – TETWP Live Auction & Singer – Songwriters Concert
5:00 PM

Wednesday, July 11th

4-H Rabbit and Poultry Show
8:30 AM
Afternoon & Evening Carnival At The Rodeo Grounds
Watershed Team Roping and Barrel Racing Auction
5:00 PM
Pioneer Banquet At The Elks Lodge
6:00 PM
Watershed Team Roping and Barrel Racing


Contact Gunnison Roping Club, 970-596-5329, watershedroping@live.com

7:00 PM
4-H and FFA Swine Show
10:00 AM
4-H and FFA Market Sheep Show
2:30 PM
Afternoon & Evening Carnival At The Rodeo Grounds
The #1 Tough Enough To Wear Pink PRCA Rodeo in the Country!
Everybody wear PINK.
7:00 PM
TETWP Dance at the Elks Lodge
Band TBA. $10 per person
9:00 PM
2018 Concert at the I-Bar. TENTATIVE DATE
9:45 PM

Friday, July 13th
Patriot Night Rodeo

4-H and FFA Meat Goat Show
9:00 AM
4-H and FFA Cattle Show
10:30 AM
4-H Round Robin Showmanship Championship

1:30 PM
Afternoon & Evening Carnival At The Rodeo Grounds
PRCA Evening Rodeo – Patriot Night
Everybody wear RED, WHITE, & BLUE!
7:00 PM
Dance at The Elks Lodge
Band TBA. $10 per person.
9:00 PM

Saturday, July 14th
Backing the Blue PRCA Evening Rodeo

Cattlemen's Days Parade Info and Entry Form
10:00 AM
4-H and FFA Livestock Buyers BBQ
12:30 PM
4-H and FFA Scholarship Presentations
1:30 PM
Junior Livestock Sale
2:00 PM
Afternoon & Evening Carnival At The Rodeo Grounds
PRCA Evening Rodeo – bring the whole family!
7:00 PM

Sunday, July 15th

Cowboy Church / FCA Services – Rodeo Grounds Grandstands
9:00 AM
Team Roping Jackpot – Gunnison Fair Grounds. Enter by 10:30 am / Rope at 11 am.
11:00 AM
Details
Start:

July 6

End:

July 15

Event Categories:

Event Tags:
Event Navigation