Big Mine Mural Project Community Paint!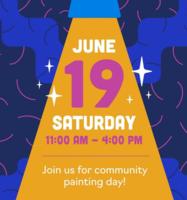 Join us for community painting day! Meet groovy people, gain large scale project experience and boogie to fresh tunes. Roller skating/blading/skateboard breaks encouraged. 18+ or with adult supervision. Close toed shoes required. Any level of expertise is welcome. Vaccination preferred. If you're not feeling well please stay home.
In order to streamline our calendar we've moved guided mountain bike trips to a separate page on our sister site MTBHome.com. You can view those trips by guide service here.