Big Blue Festival by KBUT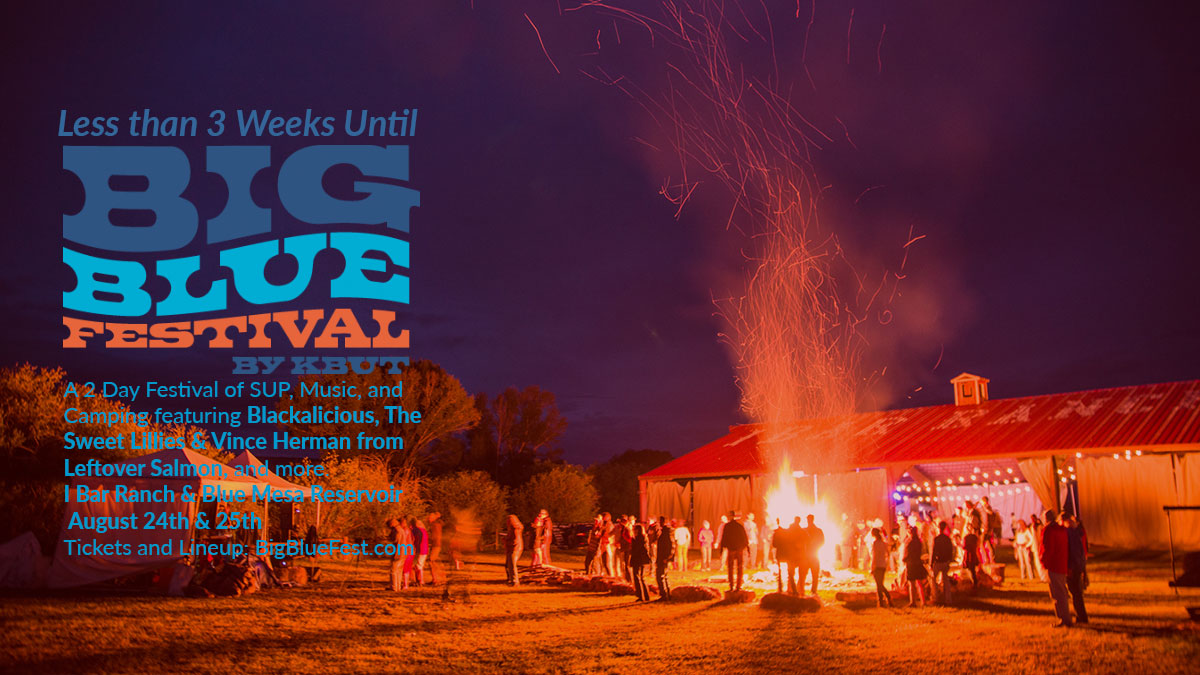 We are brewing up something new and amazing this year!
New Name. New Plan.
Join us for the Big Blue Festival, an amazing SUP event on Colorado's Largest Body of Water now partnered with a Music Festival!
This weekend event is an event for all ages and abilities!
The Blue Mesa Beach Bash has combined forces with KBUT Community Radio to bring you a new event: Big Blue Festival! It's two days of fun and music at the I-Bar Ranch and Blue Mesa Reservoir.
Join us Friday August 24th at the I Bar Ranch for some rocking concerts brought to you by KBUT Community Radio. Camp the night away at the I Bar Ranch if you'd like, or stay in one of our many local lodging properties.
Then on Saturday, August 25, head on out to the Blue Mesa for the best Stand-up Paddleboard event in Colorado. SUP races, clinics, games. After playing on the beach all day, head back to the I Bar for even more music and dancing!
Make a weekend of it in beautiful Gunnison, Colorado!
Music Festival and Camping at the I Bar Ranch
Friday, August 24 – 4:00 pm to 11:00 pm (doors open at 4)
Saturday, August 25 – 4:00 pm to 11:00 pm (doors open at 4)
Location: I Bar Ranch, 850 County Road 49 (just east of Gunnison)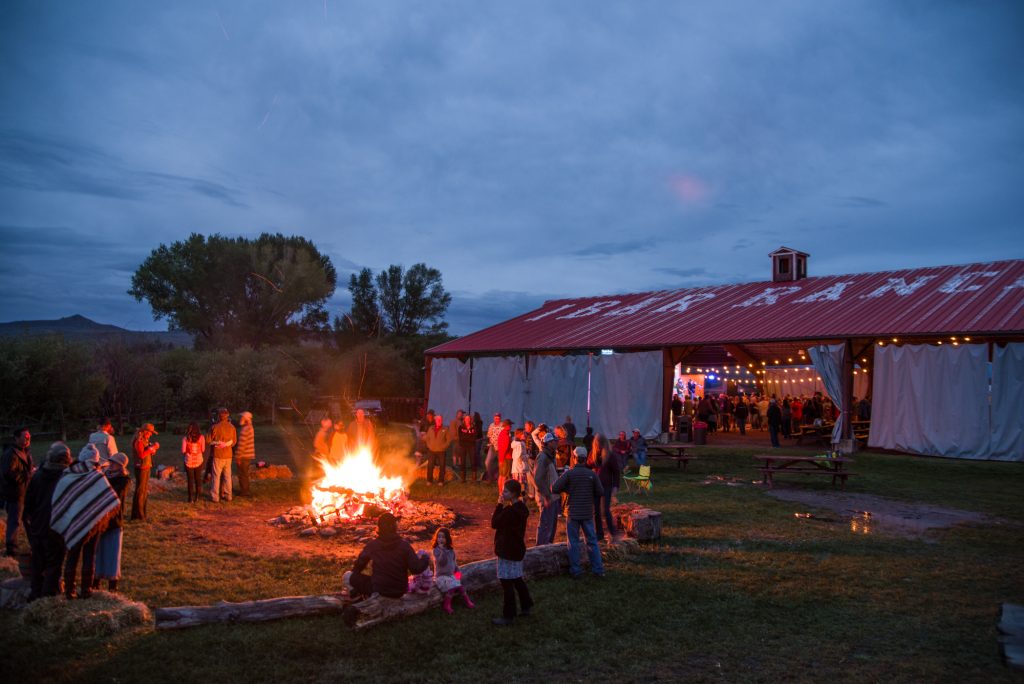 Live Music Lineup:
Friday
Saturday
Ragged Mountain Bluegrass
Faces Made for Radio (featuring volunteers and staff of KBUT)
Now to the water part… What exactly is SUP?
Stand-up paddleboarding is the fastest growing water sport in the world, and quite possibly the most fun. SUP is a combination of canoeing and surfing where paddlers use an inflatable board and a long paddle to move across the water. Since SUP boards are more stable than canoes and kayaks, and are soft and covered in foam, they're the perfect platform for goofing around on the lake, practicing your yoga moves, or relaxing in the sun.
Where
Old Stevens Creek day use area on Blue Mesa Reservoir. Located about 15 minutes west of Gunnison on Highway 50 directly across the street from Gunnison Lakeside RV Park and Cabins.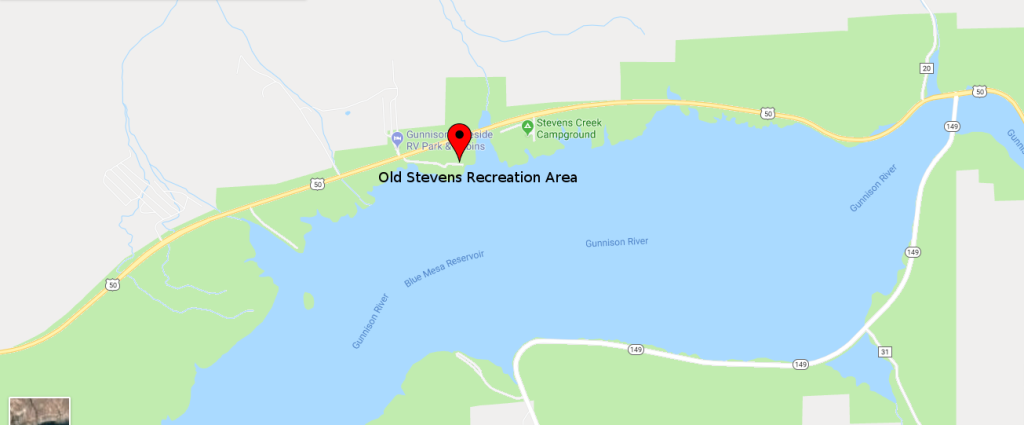 Getting to and from: We will be providing shuttles if you would prefer not to drive.
Activities & Event Schedule for Blue Mesa Activities
Check-in: 8 am to 9 am
SUP Yoga: 9:30, 10:15, 11, 11:30 (30 minute classes) Yoga is super fun, but on a paddleboard, even better! Join us for a yoga experience you will never forget. Learn the basics or improve your form with one of our specialty instructors. You'll find your flow in no time.
Intro to SUP lessons: 9:30, 10:15 Never been on a paddleboard before? No problem! Our experienced PaddleFit coaches will have you up and feeling confident in no time! Do you paddle all the time? Great! Come hone in your skills to win the big race!
Fun Race: 11:30 This is a SUP race for everyone! Some people go fast, and want to win, and others, well others are in full costumes and just in it for bragging rights. Either way, this is an event you won't want to miss (1 mile race)
Hogwood BBQ: 11:30-2:30 enjoy BBQ on the beach on us! 1 lunch per person
Sup Jousting/Sup O War: 11:30-1:30 Ever seen American Gladiators? Imagine that, but on the water! Jousting competitions and SUP O War (gather your friends and get a team together!) will be happening all afternoon starting at 11:30. For kids of all ages
Free Paddle/Play: 1:30-4 There will be inflatable tubes, paddleboards, live music, and water games for all to enjoy or just watch all afternoon.
SUP Demos: All Day Try out boards and decide what you want before you buy
Drinks included with your ticket.
Free Shuttles from I Bar Ranch.
Sponsors
If you're interested in sponsoring the Big Blue Festival you can view all the information in our Sponsorship Packet then contact Tyler Lucas, our sponsorship liaison.
Volunteers
We're looking for volunteers to help with a variety of tasks at The Big Blue Festival. Volunteers are required to work one 5 hour shift and in exchange you will receive an entry ticket to the 2-day event, two beer tickets, and KBUT swag. Please email KT if you would like to volunteer at kt@kbut.org.
Policies and Fine Print
I Bar Ranch Policies and FAQ
I Bar Ranch reserves the right to card EVERYONE, regardless of what age you appear to be. For some shows we may institute a wristband system. There will be an area set-up to check IDs and to issue the wristbands. You must have a wristband in order to be served alcohol or to consume alcohol. Anyone caught possessing or consuming alcoholic beverages without a wristband will be subject to eviction and/or prosecution. Anyone caught trying to transfer a wristband will also be subject to eviction. Likewise, anyone bringing in outside alcohol will be evicted and/or prosecuted.
How old do I have to be to consume alcohol on the premises?
The legal drinking age in Colorado is twenty-one (21).
Is alcohol sold on the premises?
Yes. There is a bar that sells a variety of alcoholic beverages including a selection of mixed drinks, wine and beer.
What items are NOT allowed at the I Bar?
Common sense would dictate certain items that are not allowed — including outside alcohol, drugs, weapons, fireworks or any explosive devices. For most shows video cameras and audio recording devices are also not allowed. Still, photo cameras are generally acceptable however it is at the discretion of the artist's management. If we are instructed to disallow photo cameras and any audio/recording, the device may be subject to confiscation!
What items can we bring with us into the I Bar Ranch?
The Ranch allows many items to be brought into the facility water bottles, blankets, extra clothing, and usually still photo cameras (note that for most shows audio and video recording equipment is NOT allowed). Stadium cushions no wider then 15″ are acceptable.NOTE: This policy adds to the uniqueness of our venue. Most other places do not allow these items to be brought in. Please do not abuse our policy by trying to smuggle in alcohol or other banned items. If we find we have too much trouble with this then we may have to change our policy. Thank you for your cooperation. What you bring in must remain with you while you are there.
Do you accommodate the elderly or those with physical disabilities?
We try our best to accommodate the elderly or those with disabilities. Depending on the show and when you arrive you may drop off people with special needs right at our main gate. We also have reserved parking spaces for vehicles with handicapped plates/permits and can make special seating arrangements for those in wheelchairs.Please note that although we try our best to accommodate all of our patrons, there are physical constraints due to the nature of an agricultural/outdoor facility. We recommend you order your tickets early and notify us that you will have people with special needs in your party.
For a complete list of the I Bar Ranch's policies and frequently asked questions, please visit their website.
Saturday SUP Policies
This is an outdoor event. In case of severe weather, it may be canceled or delayed due to circumstances beyond our control.
The SUP portion on Saturday is on federal land, Curecanti National Recreation Area, and marijuana is not allowed
This event is made possible, in part, with the assistance of the Economic Development Grant Program of the City of Gunnison.
In order to streamline our calendar we've moved guided mountain bike trips to a separate page on our sister site MTBHome.com. You can view those trips by guide service here.