BACKCOUNTRY FILM FESTIVAL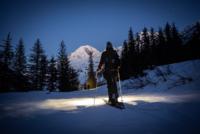 15TH ANNUAL BACKCOUNTRY FILM FESTIVAL COMES TO GUNNISON Gunnison, CO – Calling all "go big or go home" winter enthusiasts! Get ready to get goosebumps while you "Ooh!" and "Ahh!" at the impact and importance of our winter wildlands through this collection of short films. The fifteenth annual Winter Wildlands Alliance Backcountry Film Festival will show in Gunnison on Thursday, February 6th at Western Colorado University – Center Theatre. All proceeds will benefit High Country Conservation Advocates. High Country Conservation Advocates protects the health and natural beauty of the land, rivers, and wildlife in and around Gunnison County now and for future generations. Produced each year as a celebratory, backcountry community event by the Winter Wildlands Alliance, the 15th Annual Backcountry Film Festival film line-up is full of snowy, cinematic adventure sure to inspire both the local backcountry and general communities. Winter Wildlands Alliance is a national nonprofit organization dedicated to promoting and preserving winter wildlands and a quality human-powered snow sports experience on public lands. By partnering with groups like High Country Conservation Advocates at a local level, the Winter Wildlands Alliance raises funds for these groups and communities through the annual Backcountry Film Festival national tour. All funds raised directly benefit local projects and programs that perpetuate access and stewardship of public lands. Adventure, environment and climate, youth outdoors, ski culture- you'll find it all in this award-winning lineup. Doors open at 6:00pm and the screening beings at 6:30pm. Free with WCU ID or $10 Admission.
In order to streamline our calendar we've moved guided mountain bike trips to a separate page on our sister site MTBHome.com. You can view those trips by guide service here.