ArtWalk & Music at the GAC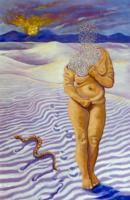 May 3, 2019 5:00 – 8:00 pm Live Music: Quarter Mile Mule Acoustic Americana/Country duo featuring Chris Coady and Kevin Doherty. Main Gallery: Spiritual Journeys, Perspectives From Crestone Spiritual Journeys is a group show organized by CrestoneArtists.com and includes the work of 16 members exploring art, spirituality and the spirit of a unique place. Crestone, at the base of the Sangre de Cristo Mountains, is internationally known for both it's Natural beauty and over 30 spiritual centers. An intermingling of diverse traditions and a vibrant quietude provide inspiration to these artists. Spiritual Journeys will immerse viewers on a deep, basic, and non-denominational level. It is an invitation to deepen sacred relationships with each other and universal energies. Upper Gallery: "Efflorescence" by Molly Darby Efflorescence describes a collection of floral portraits communicating the development of the self and reflecting a corresponding growth in identity. This artful series is defined by abstracted designs that lead the audience through a visual journey of physical, emotional, and spiritual advancement. The overall exhibit inspires an idea of "flowering out"; becoming and embracing who we are as unique individuals.
In order to streamline our calendar we've moved guided mountain bike trips to a separate page on our sister site MTBHome.com. You can view those trips by guide service here.