ArtWalk & Music at the GAC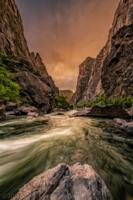 July 5, 5:00 – 8:00pm Live Music on the Courtyard: Len Trujillo Len is a solo acoustic guitar performer playing music from the 60's, and beyond, offering a blend of classic rock and country sounds,. Influenced by artists such as The Eagles, John Denver and Johnny Cash, Len reaches out to the audience and connects them with a pleasant memory or period of time. Invitational Sponsored by Paul and Enid Holden in its 4th year, this invitation is a collaborative effort to provide an accessible community venue and opportunity for talented local artists to exhibit and discuss their artwork. Artists' presentations will begin at 6 pm during the First Friday ArtWalk and gallery opening. Main Gallery: "Surroundings" by Dave Kozlowski Long time local Dave Kozlowski grew up in the suburbs of Buffalo, NY with frequent trips to nature facilitated by his parents who were amateur photographers. Their influence created a passion for Dave, who personally struggled with the art form due to the volume of photographers. The passion never left his soul and in the Spring of 2014 he decided to pursue photography full-time. He is top tier contract photographer for Crested Butte Mountain Resort, vacation memory maker for Eleven Experience and in his spare time wanders the valley seeking to create imagery that stirs emotions. His work has been featured by Nikon USA, Redbull, Crested Butte Mountain Resort, Mountain Flyer, Alpinist, Eleven Experience and others. Upper Gallery: "Needle Art for the Artistically Challenged" by Valerie Stahl This exhibit will inspire even the most artistically challenged person to experience the satisfaction and intricacies of needle art. For years, Valerie Stahl has felt artistically challenged, then she discovered needle art kits and the rest is history. Valerie will illustrate two types of needlework in this exhibit; crewel embroidery and needlepoint. Viewers will see a collection of original framed pictures, samplers and decorative pillows, as well as an in-progress needlepoint project.
In order to streamline our calendar we've moved guided mountain bike trips to a separate page on our sister site MTBHome.com. You can view those trips by guide service here.