ArtWalk & Music at the GAC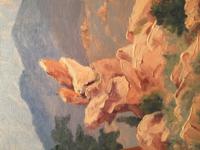 June 7, 5:00 – 8:00 pm Live Music on the Courtyard: Marimba Mu Gomo Marimba Mu Gomo (Marimba in the Mountains) is an eight member troupe comprised of Gunnison and Crested Butte locals, playing traditional and original Zimbabwean music on wooden African Marimbas. Main Gallery: "Rockin' the Arts" Celebrating Hartman Rocks and Other Open Spaces Oil Paintings by Jim Ulrich New Mexico artist, Jim Ulrich spends his summers in Gunnison, painting and running the trails at Hartman Rocks. After a career in banking, Jim threw caution to the wind in 2009 to begin painting full time. He creates landscapes and seascapes 'en plein air' as well as in the studio. He has trained with Ken Auster, Joshua Been, Scott Christensen, and many more. This exhibit celebrates the features of Hartman's as well as the Van Tuyl Loop and Mill Creek. One percent of proceeds will benefit Gunnison Trails His work can be seen at Weems Gallery in Albuquerque or at his web site jimulrichart.com. Upper Gallery: Open Community Show "Zen" Zen, a path that takes discipline, motivation, practice, and dedication, can be applied to many aspects of all our lives. This summer, take that path with the Gunnison Arts Center by finding inspiration in bringing the Zen practice into your own artwork at this uniquely themed Open Community Show. Open Shows give local and emerging artists the opportunity to submit their work for display in a dynamic and diverse way. Each artist is allowed a max of 3 entries within the theme and all mediums of 2D and 3D works are welcome. $10/entry, $8/members. Visit GAC website for complete info. Submission dates: 5/30, 5/31 & 6/1.
In order to streamline our calendar we've moved guided mountain bike trips to a separate page on our sister site MTBHome.com. You can view those trips by guide service here.