Amy Irvine and Pam Houston at Townie Books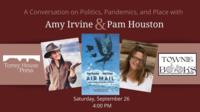 As the nation emerges from months of quarantine to a crucial election season, Pam Houston and Amy Irvine's Air Mail: Letters of Politics, Pandemics, and Place illuminates the necessity of fierce friendship, the fight for social justice, and stepping into the power we have to create a healthier, gentler, and more compassionate planet. Join us for a socially-distanced event on the patio at Townie Books to hear from authors Pam Houston and Amy Irvine about their newest book!
In order to streamline our calendar we've moved guided mountain bike trips to a separate page on our sister site MTBHome.com. You can view those trips by guide service here.