Alpenglow: The 14ers
August 8, 2016 @ 5:30 pm

-

8:00 pm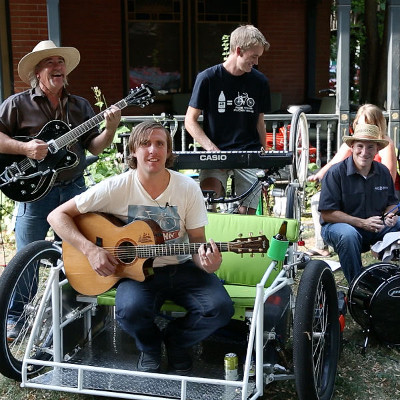 Life is short, do the things you love. Ryan Kirkpatrick brews lively lyrics with catchy acoustic-based rock songs, spends lots of time outdoors, and smiles often. The 14ers – named after Colorado's highest mountain peaks – is a musical adventure led by Kirkpatrick himself. "My favorite thing about playing these songs is that, regardless of if they've gone platinum, they are authentic original tunes inspired by all things that make me who I am – the outdoors, beer, adventure, love, and a little bit of trouble," says Kirkpatrick. And if creating music that feels this good is a crime, there are many talented musicians that are guilty by their association with Kirkpatrick. Barry Bates (drums), Stu Cruden (bass), Jacob Anderson (keys), and Paul Martin (electric guitar) most frequently join Kirkpatrick on stage along with other occasional top-notch musicians around the country including the newest recording featuring Adam Topol (Jack Johnson), Chris Joyner (Jason Mraz), plus Nick Bearden and Brad Lindsay (Jamestown Revival).
The 14ers have earned a reputation for drawing crowds at festivals, breweries, and key venues from Colorado all the way to The Hotel Cafe and SOhO in California and the SXSW Colorado Music Party in Texas. The 14ers have also shared the stage with acts such as Howie Day, Rusted Root, The Wind and The Wave, and ALO. Their performances feature interactive and authentic sets with catchy original music such as "Bikes", a song about drinking beer and riding bicycles that boasts purely fun and memorable lyrics with writing credit to Mason Jennings, Matt Jennings, and Ryan Kirkpatrick. "It doesn't take much to find out that I'm crazy about where I live," confides Kirkpatrick. The 14ers played almost 60 shows last year in 7 different US states and are releasing new music frequently in 2016, along with plenty of live performances, and a documentary titled I'm Awake in the works featuring the music and other adventures of Ryan Kirkpatrick.
Alpenglow concerts are held rain or shine. They are free and open to the public.
In order to streamline our calendar we've moved guided mountain bike trips to a separate page on our sister site MTBHome.com. You can view those trips by guide service here.