Adult Creative Clay: Wheel Throwing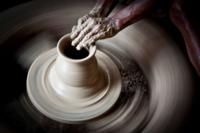 Adult Creative Clay: Wheel Throwing Session 1: Thursdays, 6:15 – 9:15 pm. January 31 – March 14. (No class 2/21) Instructor: Karen Immerso Session 2: Tuesdays, 6:15 – 9:15 pm. April 9 – May 14. Instructor: Lynn Cudlip Use your knowledge of clay from the hand-building class and apply it to throwing on the wheel! Student will be taught centering, wheel throwing and trimming techniques. No experience is necessary, although some hand-building experience is preferred. $160session. $136/members.
In order to streamline our calendar we've moved guided mountain bike trips to a separate page on our sister site MTBHome.com. You can view those trips by guide service here.