Adult Aerial Conditioning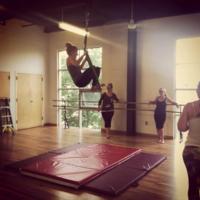 Adult Aerial Conditioning Session 2: Mondays, 6:00 – 7:00 pm. March 8 – April 12. OR Thursdays, 5:00 – 6:00 pm. March 11 – April 15. Limit 2 people per class due to Covid. In this class students will gain an understanding of body conditioning and how to apply it to aerial dance. Students will go through beginner moves and also work on sequencing them on the Lyra and Sling. No previous experience or strength required. You will gain strength as you learn! Instructor: Alexandria Rodriguez. $110/session, $93.50/members. Limit 2 students per class, please choose either a Monday or Thursday option when registering.
In order to streamline our calendar we've moved guided mountain bike trips to a separate page on our sister site MTBHome.com. You can view those trips by guide service here.