46th Annual 4th of July Pancake Breakfast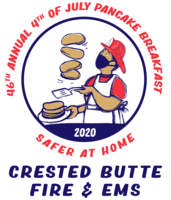 Support our 46th Annual 4th of July Pancake Breakfast, which benefits our Fallen Firefighter Fund. During this challenging time we are offering a special "Pancake Breakfast Kit" which includes breakfast for 4 and two special edition Pancake Breakfast T-Shirts. Order online at: https://www.cbfireemsvolunteers.com/product-page/pancake-breakfast-kit We will be providing local delivery on the morning of July 4th! Please provide your delivery address in the "Add a Note" section in the cart and select "Local Delivery" for your shipping option. Not in town? That's ok! We will ship your kit to you. This is our largest fundraiser of the year. The Fallen Firefighter Fund was put in place to help our Members, and/or their families, in the event of injury, illness or other disaster. We couldn't do what we do for our community without our Members, just as we couldn't help our Members without your generous support. Thank you!
In order to streamline our calendar we've moved guided mountain bike trips to a separate page on our sister site MTBHome.com. You can view those trips by guide service here.