28th Headwaters Conference at WSCU
October 6, 2017

-

October 8, 2017

free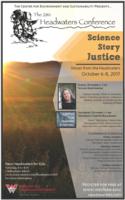 The 28th Annual Headwaters Conference continues on the Western campus from October 6-8, with a panel of social and environmental justice activists on Saturday night. The weekend will also include poetry from Aaron Abeyta and workshops from High Country News, Western State, Land Institute, and Center for Humans and Nature leaders. Conference is free and includes a free Headwaters for Kids event on Saturday. Sign up at www.western.edu/headwaters
Friday night's keynote address, "Justice for All: Restoration, Reciprocity and Respect for All Beings" will be given by Robin Kimmerer, who speaks both as botanist and a native woman who learned plants through the stories of her ancestors and the inquisitive explorations of childhood.
Saturday's field workshops will venture into the Headwaters Region to study local landscapes, guided by diverse voices of science and story. The conference will conclude with a Sunday morning conversation that engages all participants around questions of science and cultural experience.
Saturday night, Chicago's Center for Humans and Nature will join Western's Center for Environment and Sustainability to engage participants on the question of "Wild Justice."  This panel will ask, "How do social justice movements to protect place enhance our story of what is wild?" Panelists will include Wildness authors Devon Pena, and Michael Howard.
Artistic performances from American Book Award Winning author, Aaron Abyeta (also in Wildness), and Gunnison Musician Alan Wartes.
Join us at Western State Colorado University, October 6-8, 2017, bringing your voice into a timely conversation about the power our stories have to define truth, dance with science, and build justice in unexpected, often delightful ways.
In order to streamline our calendar we've moved guided mountain bike trips to a separate page on our sister site MTBHome.com. You can view those trips by guide service here.