2019 Oh Be Joyful Race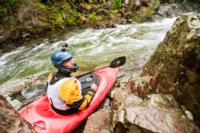 The Oh Be Joyful Race is back on this year! With our snowpack sitting around 150% the Gunnison Basin is primed for a great creek boating season! Come out and test your skills or compete against your friends on Oh Be Joyful Creek! This is your chance to seize glory or crash hard while trying. Check out our event page on Facebook and look for registration to open in early May. Early bird registration will be $30 and regular registration will be $40. This year we are donated proceeds from racer fees to HCCA for their work on Wild and Scenic designations in the area.
In order to streamline our calendar we've moved guided mountain bike trips to a separate page on our sister site MTBHome.com. You can view those trips by guide service here.