2017 Superfly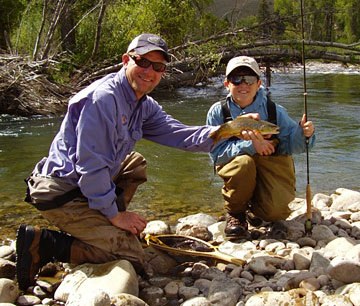 Jeff Oulton of the Gunnison Angling Society and Scott Ratcliff of Colorado Trout Unlimited created the contest in 1989 and held the first event in 1990. Superfly continues to be a means of acquainting anglers with our local fisheries, while having a good time and raising funds.
Superfly is the main fundraiser for Gunnison TU. Proceeds from the event are used for chapter operations, conservation projects, and youth education. Superfly helps fund youth education in Colorado by providing financial support for the annual Colorado TU River Conservation and Fly Fishing Youth Camp. Our contributions will help to further develop the camp and provide scholarships for students.
Superfly is held on the first weekend after Labor Day at The Almont Resort. Two-person teams compete to see who can catch the most inches of trout in one day using the two flies of their choice. Anglers fish a variety of water in the Gunnison Valley, including premier private water on the East River, Taylor River, and Gunnison River. Besides the fishing contest, the Saturday night banquet includes bucket raffles, silent auction and door prizes. The entry fee is $600 per team. Each team member receives a nice fishing shirt and cap, and meals for the weekend event. The meals include a buffet breakfast, box lunch, and a steak barbecue dinner.
Friday night starts the fun with a reception and team registration. This is also when all the teams draw their beats (for both the morning and afternoon) and meet with the guides/monitors. Free beer and hors d'oeuvres are served. Saturday morning begins with a buffet breakfast. Team members then register their flies and meet up with their guides to go fishing for the day. Prizes are awarded Saturday night at the banquet for the top three teams, top rod, and the biggest fish. We have excellent prizes each year, including high-end fly rods that retail for as much as $800!
Register online now! You can now register and pay online with a credit card. Teams can also enter by downloading the team entry form and mailing it with a check for $600 to the Gunnison Angling Society.
In order to streamline our calendar we've moved guided mountain bike trips to a separate page on our sister site MTBHome.com. You can view those trips by guide service here.