Early Season Nordic Skiing Bonanza
It was one of those storms where it almost seemed pointless to clear the snow off the driveway because in the morning or later in the day there would be another 6 to 12 inches. But there comes a point where you get worried about getting stuck in your own driveway! This went on for three days until Sunday, Nov. 16, we woke up to one of those amazing Crested Butte blue sky days, the really vibrant kind where the more than two feet of fresh snow seemed even whiter.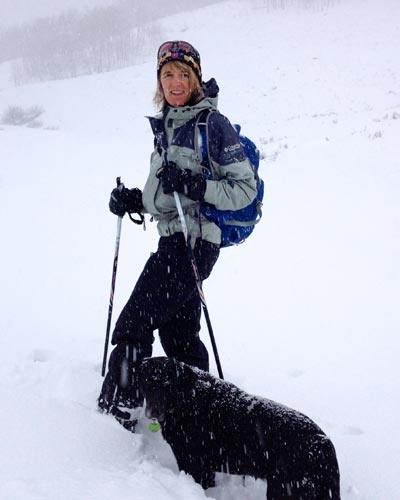 I had been itching to get out and Nordic ski as friends had been talking about skiing in the Lily Lake area off Kebler Pass for about a week, the place in our area that tends to be skiable first. By Thursday night we had a foot on the ground, and it became evident that it would be an epic opening weekend for Crested Butte Nordic Center and that calendars would need to be cleared to allow for plenty of time outside.
Backcountry Nordic skiing is one of my favorite winter sports. I like to hop on groomed track near my house for quick lunch hours or afternoon breaks during the week, but getting out in places like Slate River, Washington Gulch, Brush Creek, Cement Creek, Gothic and Mill Creek is my favorite.
As a friend and I drove up Slate River Road on Saturday while it was still dumping snow, we started wondering if we'd make it in my Toyota Rav 4 but the new tires paid off and we followed a set of tracks most likely from the friend we were meeting. Our dogs could hardly wait for us to get skis on, and we were thrilled that someone had beat us out there and had done the honors of plowing through the two feet of snow first. Unfortunately, they elected to turn around not too far into the trek so we took turns taking the lead and breaking trail. It was hard not to be giddy with the conditions and beauty, especially when arriving at Gunsight Bridge, where we turned around to head back.
On Sunday, my 15-year-old daughter, despite being incredibly tired after staying up too late the night before, rallied and we headed to the Crested Butte Nordic Center to pick up gear for her. We found a big line of people picking up passes and families utilizing the center's amazing policy of letting kids 17 and under (locals and visitors) use their rental gear and ski the groomed trails for free.
While groomed trails in town were ready to ski thanks to Crested Butte Nordic, we headed to one of our favorite places to ski, Washington Gulch. We kept remarking at how great it was to be out, and my daughter found plenty of shots for her photography class at school. No trail to break today as enough backcountry skiers had beaten us out there.
It has been one of those early seasons you dream of. Incredible snow to get the buzz going, promising a pent-up demand to hit the slopes when Crested Butte Mountain Resort opens next week the day before Thanksgiving, Nov. 26. There is no reason to sit around over Thanksgiving with Crested Butte Nordic's Thanksgiving Training Camp on Nov. 27 – 29 and slopes to ski!
Beth Buehler is a Colorado native who enjoys sharing the outdoors with family and friends. She finds it challenging to get work done when there is always a great trail to hike or ski just outside the front door!